Hair Scrub anyone? Yes! You read it right!
The Body Shop has come up with its home care range Fuji Green Tea which has a scrub, shampoo and a conditioner! A purifying exfoliating scrub for your scalp and hair! And a Green Tea one because it claims to have anti-oxidants and anti-ageing properties which makes it really good for the skin and body. All the products of this range are suitable for normal hair, free from silicones and are 100% veggie! Wow!
Let me first write about this novelty of a product – the Hair Scrub. I had never heard or ever thought that there could be a scrub for hair – curiosity definitely drew me to the product when I saw the name and I was really intrigued to try out the texture!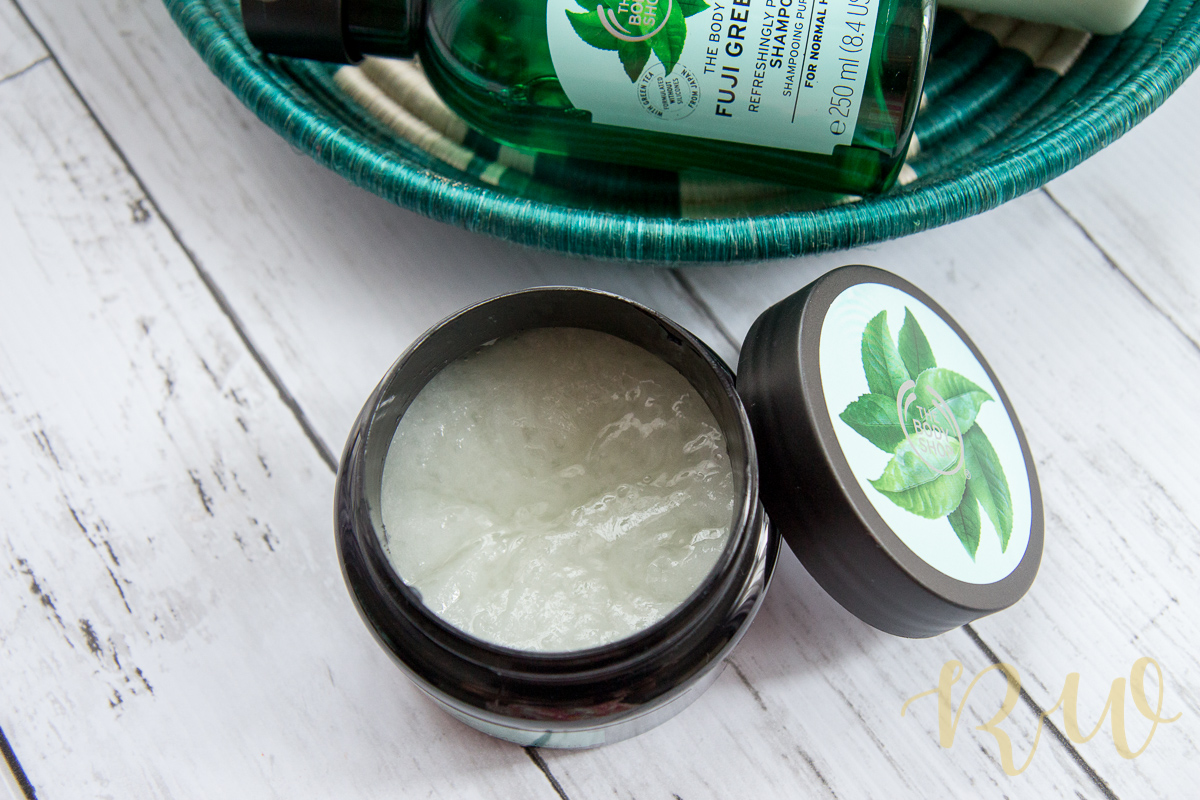 It comes in a large plastic tub (like their body scrubs) and the moment it is opened, you are greeted by a refreshing minty smell. It's feels so good!
The label says that it has Japanese green tea, mint, menthol, salt crystals and Community Trade honey from Ethiopia.
The hair scrub feels exactly like a facial scrub with salt crystals which are quite edgy and sharp, but immediately dissolves in a smooth foamy shampoo-ey texture once massaged with water.
The product claims to gently clarify and clean the every day pollutants like dust, smoke, sweat, hair-styling products from the hair, leaving it looking healthy and bouncy!
I really enjoy using this product, since it does leave my hair smooth and scalp squeaky clean after every wash. The menthol gives a tingling sensation when applied and the minty smell lingers on even after the wash – something I like.
For my short hair, I really need only a small dollop of the scrub. As instructed, I massage in to my palms with little water, apply on my hair and soon it works up in to a nice lather! I need to use a conditioner afterwards since without it, my hair becomes seriously un-manageable! It can be used 1-2 times a week.
I am down to almost half the tub now. It lives up to all the claims. It's great for fighting pesky dandruff and dry scalp – a small dry patch that I had on the scalp is now gone!
Highly recommended!
I give it a 4 out of 5 rating – I would have given it a full 5 if not for the cost; it retails at $29 for 240ml.
The Shampoo and the Conditioner from this range are also good! Both of them are formulated without silicones and colourants, good for everyday use.
The shampoo to me is nothing extra-ordinary, very simple and I think there are similar (if not better) ones out there in the market. Although the smell is good and refreshing!
The conditioner is something I reach for every time! It makes the hair really soft, smooth and hydrated. It pairs really well with hair-scrub.
3.5 on 5 for the Shampoo; and
4 on 5 for the Conditioner.
Both these products retails at $15 each for 250ml, but do check out the offers that are on now in stores.
Till then,
Happy Grooming
Rhea xx