A recipe too good not to share !
Murgh (chicken) Malai Tikka, a very popular dish, is a great appetizer where succulent marinated bite sized pieces of chicken are nicely barbecued till they are tender and cooked. Summer calls for more potlucks, BBQs and socializing, and this dish is one of those fancy (yet surprisingly easy) ones to whip up when needed. Needless to say, it goes amazingly well with hearty talks and homemade fruity drinks. My hubby loves it with  fluffy naans and rice too! A simple lunch idea is to stuff it in Indian breads to make wholesome wraps.
Murgh Malai tikka  is nothing new to food lovers, but recently I stumbled upon Sahiya's instagram account Allthatshedreamed, where she prepared the same with some tweaks in the recipe (will come to that soon) which made it more flavourful and finger-licking. She, a food lover, a nurse by profession and a mom of two adorable kids, had prepared this for Ramadan.
Ingredients:
Boneless chicken – I used 500gms for the recipe
Sour cream – 1/2 cup – can be substituted with yogurt.
Parmesan Cheese – 2-3 tablespoon
Chicken Tikka masala (store bought) – 3-4 tablespoon
Coriander leaves – Handful
Mint leaves – Handful
Green chillies – 2-3
Lemon – 1/4
Freshly ground pepper
Salt – to taste
Canola oil – 1-2 tablespoon
Butter – for basting
Method:
Marinate the chicken pieces beforehand with freshly ground, salt, lemon juice and 2-3 tablespoon of the masala powder. Best is to do it overnight, the longer the better, since it helps the pieces to become more juicy.
Then make a smooth paste of the aromatic mint and coriander leaves with green chillies. Mix the paste with the chicken pieces. Add in the thick and rich sour cream and the grated cheese.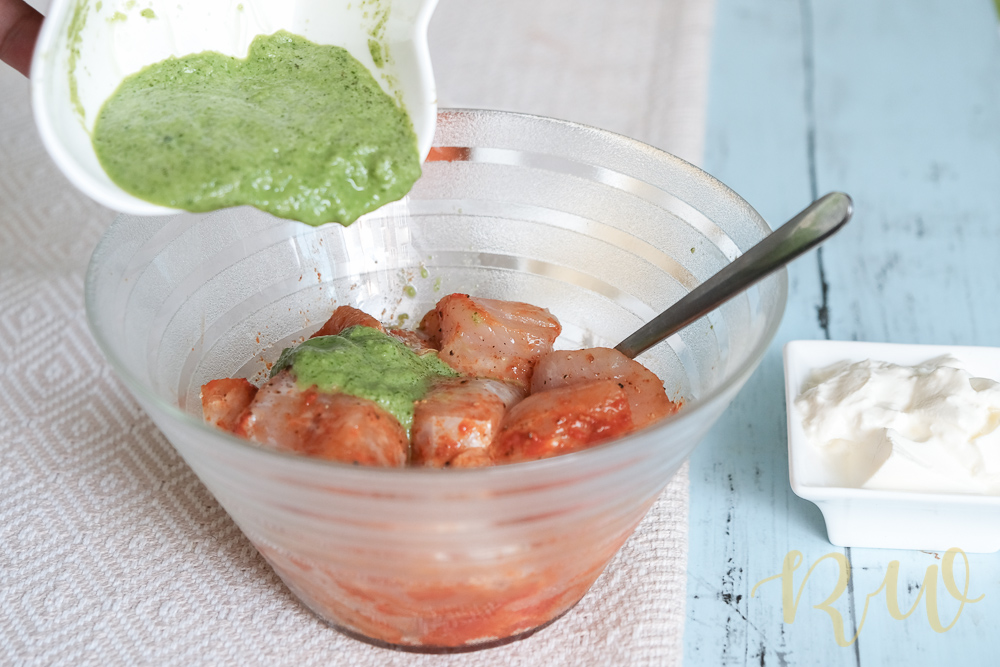 I had never made this dish with cheese before but boy! what a difference it makes. Cheese adds that extra creaminess and tartness, which used to be lacking previously. It also helps to tenderise the chicken making them soft and succulent. This is one of the reasons why I thought I should write this recipe down since many people (like me) would never think of adding this simple little ingredient to oomph up the dish. Sahiya, this is a game changer and thanks for letting us know about it.
Alternatively, cream cheese can also be added instead of parmesan and sour cream.
Add one more spoon of the tikka masala powder, if needed. I did since we love it spicy with naan. This is totally optional and so can be skipped.
After all the ingredients have been well mixed together with chicken pieces, put them in satay skewers for kebab style. Also add a little bit of oil to the grill pan, and start to place the skewered chunks in the heated pan.
Grill them over medium heat for 8-10 mins, if already marinated overnight. Otherwise should take a little longer (till the chicken becomes opaque white and soft). Turn them over halfway into grilling.
Basting with butter while cooking, will lend an exceptional aroma and turn up the flavour a few notches up.
Alternatively the skewers can be put in the oven, for roughly 20-25mins at 200 Deg C. Mid way, we have to turn them over so that all the sides have a nice dark golden colour. If using yogurt, it may release water, so need to throw away the liquid before serving, otherwise it will become like gravy.
Once done, serve hot with green chutney or raitas (some easy

recipes here)

.
This recipe can be made well in advance for guests ,if marination is already done, it takes 10 minutes to cook.
Do let me know how you find it. I have a feeling it will work well with paneer also instead of chicken with few improvisations.
Till then, 
Happy cooking,
Rhea xx