First weekend of this new year was truly exciting for us – we had booked ourselves onto a 3 night cruise with Royal Caribbean to Penang and back. This post is about the cruise itself. I have written a separate post for our short shore visit to Penang – read here.
I was initially nervous – I get motion sickness in cars, so ships are not really for me; but I heard from friends that it should be ok on a ship as big as a cruise boat.
Above is the "Mariner of the Seas" – a behemoth with 15 decks (not counting the ones for crew which we couldn't see) carrying 3,700 passengers and 1,200 crew.
We had booked tickets in November 2016 for the first weekend of January. My dear husband had left the online check-in until the last moment and hadn't realized that the latest it could be done was until 4 days before the cruise. So we had to check-in at the cruise terminal.
First Day
The sail time was 4:30pm but boarding time for deck 9 was 11:30am. There was a seemingly long queue at the boarding counter in Marina Bay Cruise Terminal but there were also several counters so it didn't take much time. There were a couple of forms to fill and photo taken for each passenger and then everyone was issued a Seapass card – it was like an all-in card and served as identification, credit-card, room key while on board.
We were then solicited by some other staff for a drinks package. We had planned to buy a package of 12L Evian water but ended up spending double the amount for unlimited non-alcoholic drinks for one person!
Immigration took a few minutes more and we were on our way to the ship. The gangway was smooth and we rolled our suitcase and stroller up to the ship with ease. We were told that the staterooms were ready so we proceeded to deck 9 to keep our stuff in the rooms before heading to deck 11 Windjammer Cafe for lunch.
Our stateroom was in the middle of the ship so it had no windows. It was quite small (looks bigger in the photo) but it was quite nicely done in soothing colours and warm lighting. The size doesn't really matter since one wouldn't spend time in the room except for sleeping. The bed was King size and so comfortable!
It took us a bit of time to find an empty table for our family (4 adults and 2 kids) in the super busy Windjammer cafe – lunch was the first thing everyone had in mind after boarding around 12-1pm. This was a very large lunch place with a good spread of food – quite varied having salads, breads, Malay, Italian, Western and Indian dishes and some really really yummy pastries for desserts.
We got the kids to sleep in the afternoon so they could be up in the evening for dinner and that was the routine I followed for the remaining 2 days. After the siesta we proceeded to Deck 11 and 12 which were open and had the swimming pools.
 It was late afternoon with the sun low in the sky and the deck was fabulous – there was a jogging track on deck 12 on which we strolled around with the see breeze in our hair. While dear husband had to go sort out some dinner seating arrangement issue (we were 4 adults and 2 kids in two staterooms and they had put some of us on different tables on different decks) we also enjoyed free ice-cream at this parlour on the deck next to the swimming pools.
Both my mum-in-law and husband love sitting by the sea enjoying the cool breeze, so the open deck with deck chairs was a big hit with them. Apart from the kids having a great time just fooling about, we also got to see a lovely sunset.
The ship had two dinner seatings – 6pm and 8pm. We were in the latter slot and found that with assigned tables there was no queuing. The dinner hall spanned two decks – 3 & 4 and looked almost like the one in the Titanic.
Second Day
Next day we got more time to explore the huge ship and went about the various decks checking out the facilities.
There was an art gallery on one of the decks and even a small studio for a portrait session with a professional photographer.
Some life-size models inside the shopping promenade on deck 5.
Sometimes it was hard to believe that we were on a ship – it was more like a huge hotel.
There was a towel folding session in one of the bars – we found it after passing through the casino.
It was the Schnooner Bar. I loved the way the windows were in lined with wood to look like portholes of old ships.
The towel folding session was nice – we made some fancy flowers.
Everyone else seemed to have a good time too.
The ship was going to dock in Penang at 4:30pm so after a lunch and a siesta we went for a few hours into Penang – I loved the island town and its old world charm; see some glimpses in this separate post.
After getting back we had a scrumptious dinner – my main dish was this (did I forget to mention that the food onboard was great).
I found this little surprise when we got back to the room ready to crash for the night…
My older boy thought it was a real dog and it all came off when he started patting it after picking it up!
Third Day
This was the final day – we spent it going to the pool…
…having fun at the mini golf course (free)…
…some more fun in the video game arcade (from memory each game around USD 1.5-2.5++)….
…some skip-hop too by my superheroes…
…and topped by the largest cotton candy ever!
After lunch me and my older one tried our hands or rather our feet at ice-skating (free)….
…which was not very successful for mom and son…
…and we couldn't progress much out of our corner! I did make a round of the rink holding onto the barrier though.
The last night in dinner the catering crew did a cool little song and dance performance which was a treat. And topped by another little surprise with the towels when we got back to our room: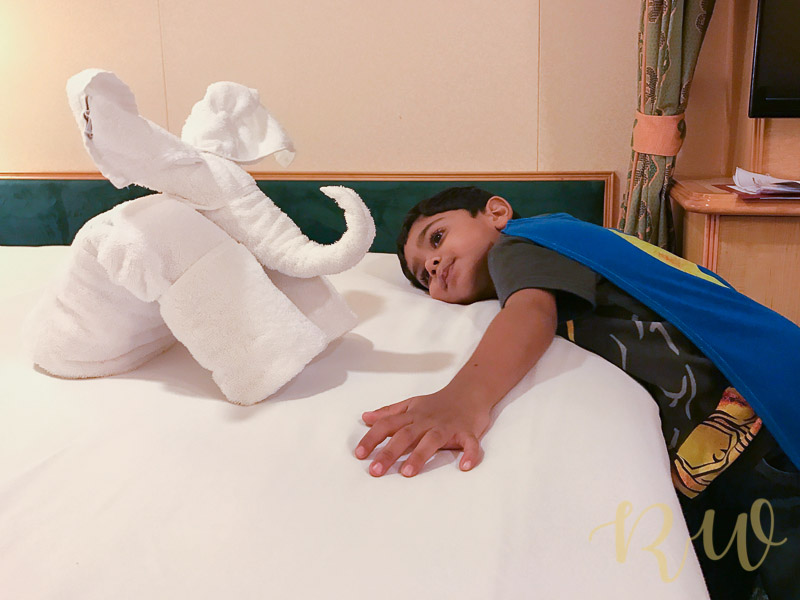 The ship docked back in Singapore the fourth day morning at 8:30am. We had had our breakfast by then and left the ship shortly after.
This was a great trip and all of us had a good time and I leave you with this photo which I loved.
xx
Rhea