I am always on the hunt for easy low/no carb dinner ideas which involves less prep and cooking time. Adding fresh fruits is a great way to upgrade any meat dish – it  brings freshness into the dish and makes it something different from the usual! For me pineapples and chicken can never go wrong!
Preparation: Good for 2-3 people
Chicken pieces into small pieces (preferably boneless – we like it with bones)-500gms
1 cup pineapple, diced
1 red pepper, roughly chopped
1 red onion, roughly chopped
2 tea spoon garlic powder
1 lime, juice and zest
1/2 tea spoon smoked paprika/red chilli powder
1/2 tea spoon red chili flakes
1 table spoon oil
Spring onion (for garnish)
Salt and pepper to taste
In a baking dish, toss all the ingredients and let it sit in the fridge for 1-2 hours (best, if kept overnight). This is great since it can be prepared a day in advance for a party or gathering.
After just 5 mins of prep and an hour or so marination, pop in to the oven at 400F for 25-30 mins, till the chicken is cooked through and the pineapples start to caramelize.
This dish can be easily made on a skillet too if you don't have an oven. Just add in the pineapples and the bell-peppers once the chicken is half done.
It can be served hot immediately after taking it out of the oven with some rice, quinoa / couscous (if going full-on healthy) as a side.
The star of this dish, pineapples, lend a sweet and sour taste to the dish, the lemon juice adds to the tartness and the other spices (paprika, red chilli flakes, garlic powder and pepper) pack a flavourful punch, making the dish so delish!
The next best thing to the sheer amazing-ness of the taste of this dish is that it is flippin' easy to make!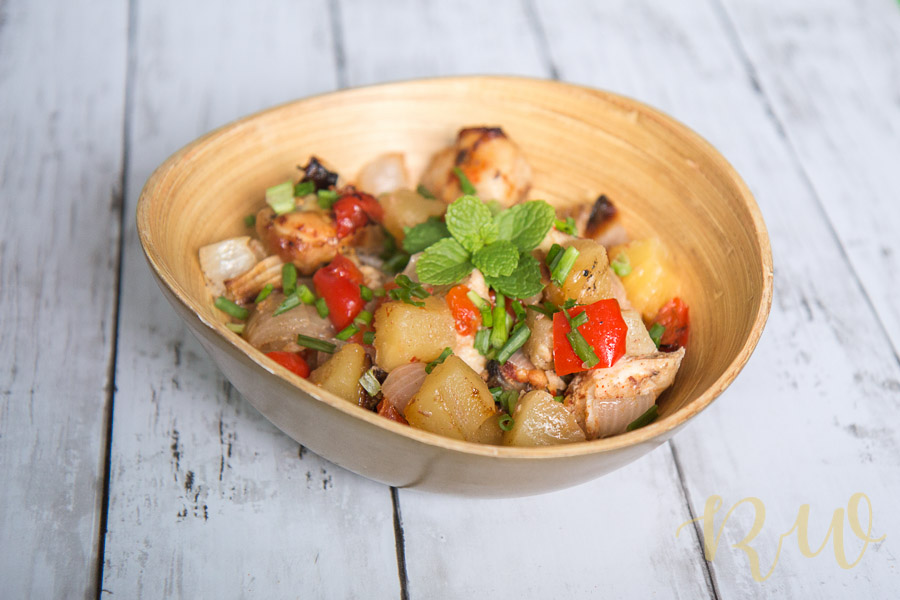 This juicy flavourful Pineapple Chicken recipe has been a favourite of ours for quite some time now, and I seriously hope you will all enjoy this recipe as much as my hubby and I do!
Till then,
Bon Appétit
Rhea xx