I woke up today morning with a "DIY" drive in me. Here's a post to report my morning's activities – super easy DIY with marble sheets on small furniture.
I had been on the lookout for a good white marble contact paper for some earlier projects, but the super heavy price tag of the ones available online (Amazon) had discouraged me for the longest time.
Ambling through the aisles of my local dollar store (Daiso), I nearly skipped a heartbeat when my eyes fell upon the remake (contact) sheets in white marble print. So I quickly picked up a few before someone else cleared out the stock. Contact paper are sheets designs or prints on one side and adhesive on the other. They can be easily used to change the look of a piece of furniture or any decorative item.
These lovelies were just the type I was looking for – white, glossy and less veiny.
I also picked up a humble looking wooden tray with curved handle for keeping knick knacks. I thought of DIY-ing it with the sheet – starting with something small and easy since I had no idea about the quality of sheets.
The DIY was very simple and easy. All I did was measure the inside of the tray and cut the paper accordingly; before adhering, I painted the tray white with acrylic paint to give it a chic look.
I was blown away with the quality of this dollar shop item, the adhesive was very sticky, the paper was not too thin and had a nice gloss to it. I couldn't ask for more, especially for the price I paid for them!
And that's how it looks on the dresser…
The project took me less than 40 mins to finish. I had to wait for a while to let the paint on the tray dry up before sticking the sheet.
When the 'DIY crazy mode' is on, DIY-ers know how it is! So after the tray, I looked around my room to find anything that could do with some upgrading – I found a few ceramic coasters lying around and an old photo frame.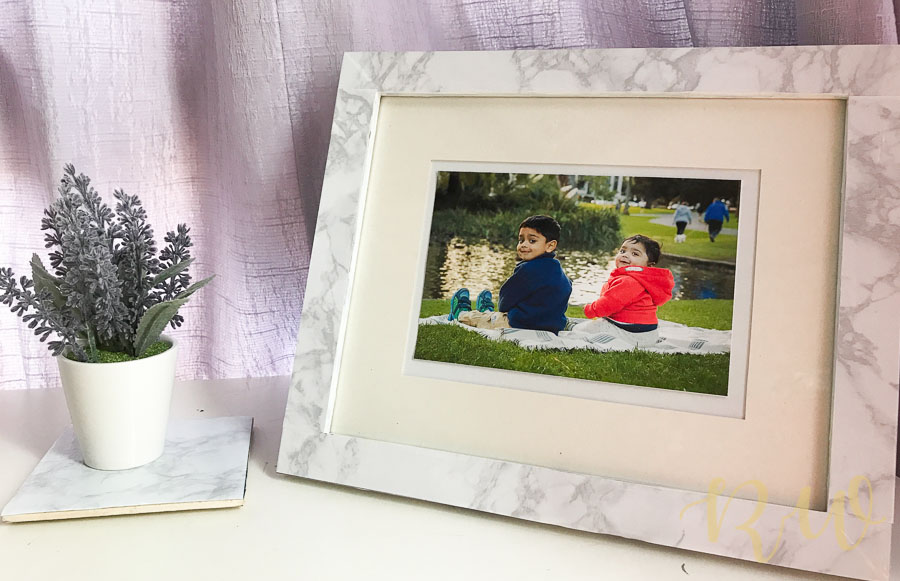 I really enjoyed doing this super easy and Pinterest worthy DIY which just costed me less than $4! Not bad, eh? "Marbellous" I say!
So after a satisfying session of measuring, cutting and sticking, I was one happy soul!
I hope you give this a try and I would love to hear how it went in the comments section below.
Till then,
Happy crafting
xx