I had mentioned in my last post that we had gone to Italy in end March / early April. The blog post on the trip got delayed because I had run out of hard disk space to download all the photos! I finally managed to create space and here's the first post on Italy – that fabulous country.
It was an 11 day vacation – 3 days each in Venice, Florence and 4 days in Rome. I planned to put all of it in one post with 3-4 photos of each place but we fell in love with Venice and I wanted to put many more photos! So this is a post on a city like no other in the world – the romantic Venice.
Getting there:
We had bought a Eurail 3 day pass (travel any 3 days in a 30 day period) for the two of us – kids upto 11 travel free! Our flight was to and from Rome so we took a train to Venice the 2nd day – easy 4 hour journey that brought us to the Venezia Santa Lucia station. Our hotel was close to the Rialto bridge and we took a vaporetto (water-bus) from the station to the Rialto stop.
We got a bit lost in the narrow alleys of Venice in search of our hotel but it helped us to get a sense of the place. We stayed at Hotel San Luca – got an apartment that was furnished like a 19th century place! The only negative was that it was on the 3rd floor and there was no elevator – I don't think that any of the centuries old buildings in Venice have them.
We were very close to San Marco – the central square which has all the administrative offices, St. Mark's Basilica, Doge's Palace etc. We had two kids and two strollers and there were a few small foot bridges to get up and down before we reached San Marco.
There are a lot of restaurants in the square which have live music in the evenings. But we had read in advance that dinners in such places can be very expensive, it being an incredibly touristy place. The books also advised that one could enjoy the live music without sitting since it was all outdoors!
End of March in Italy is the shoulder season for travel so Venice was not all that crowded and the weather was just lovely – 7-14 degrees Celsius and sunlight for around 12-13 hours.
Roaming around we came across some lovely sights like the Bridge of Sighs…
…one of the several seagulls flying above us by Doge's Palace…
…and lines of gondolas swaying gently in the water.
The next day we went to Murano and Burano. Instead of taking guided tours we just went on our own by vaporetto – it had become the most exciting thing for my two kids by then. As advised by our helpful hotel receptionist we walked to a boat stop to the north of the island instead of taking the boat from San Marco. He had said that the journey from the north was 10 minutes and boats ran every 10 minutes while it was a 30-35 minute journey from San Marco and boats ran every 20 minutes.
It was a long walk to the north as there were many bridges to cross – but it was totally worth it because we came across sights like this square with a tree of white blossoms and a beautiful church.
Murano and Burano are two small islands to the north of Venice. Murano had many glass making foundries – we didn't get too much time to explore these. Burano has brightly coloured houses and buildings which makes it a very pretty place.
It rained slightly in between but luckily it had stopped for a bit when we got off at Burano.
The next day we made full use of our 24 hour vaporetto pass (made the mistake of not buying the 48 hour pass) to go up and down the Grand Canal and we were treated to these views…
We went modest on food (did takeaway pizza slices mostly for dinners) but decided to splurge on a gondola ride – Euro 80 for half hour short ride which the gondolier upsold to a Eur 100 for a 40 minute full ride (usual price Euro 120). The ride was ok I thought. We learnt that it takes 3 years to train and get a license.
We finally called it a day by getting off at the stop for Basilica di Santa Maria della Salute…
…and watched a beautiful sun set over Venice.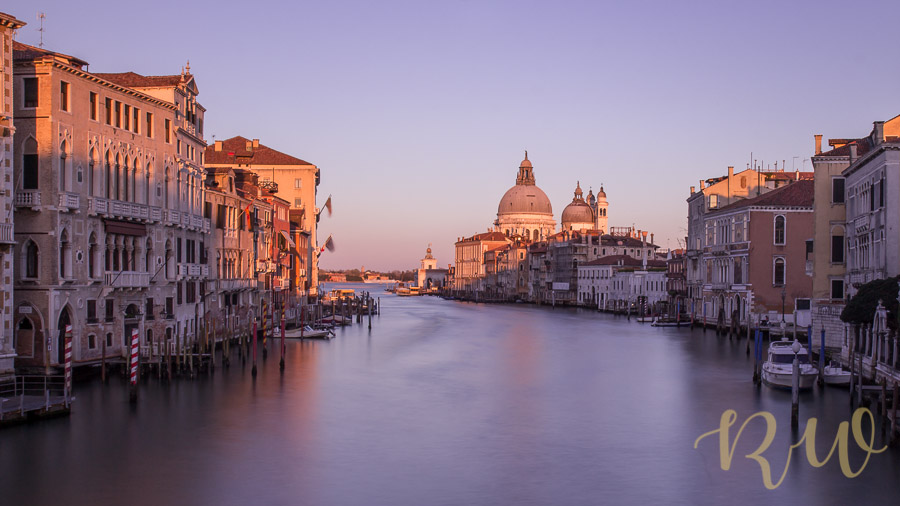 This quote by Elizabeth Berkley sums up my feelings about Venice most aptly:
"I will never forget experiencing Venice for the first time. It feels like you are transported to another time – the art, music, food and pure romance in the air is like no other place."
Read my post on the rest of our Italy trip here.
Ciao xx