My love for Hummus will only grow and grow…because not only it is one of the fastest and easiest way to calm down those hunger pangs, it is also a yummy protein packed snack! I mean, yummy and healthy at the same time – who said that combination never exists?!
My family is very fond of Mediterranean cuisine and every time we order a plate of hummus in a restaurant, my Hubby Dearest says "It's much better at home!" (possibly only to make me happy!)
It's time to kiss those store-bought hummus goodbye, and make your own in less than 10 minutes!
You will only need few things to make this dip delight:
Boiled/cooked chick peas – I used 100 gms to make the dip; keep aside a few for garnishing
Tahini paste – the hulled one will make hummus lighter in colour; 1-2 teaspoons
Roasted red pepper – 1 small
Garlic – 1 table spoon (add more or less as per taste)
Lemon Juice of a quarter lemon (again add more or less as required)
Salt – a pinch
Extra Virgin Olive Oil – as needed
Paprika – sprinkle a pinch
What to do?
First pinch out the thin transparent skins of the boiled chickpeas. It makes a huge difference in the texture of the hummus – this is a pro-tip given by a wonderful chef friend. I agree it is not the most pleasurable task to do especially if you have a big bowl of chickpeas to separate. But trust me, the few extra minutes spent in doing so, will definitely give you the creamiest and most buttery hummus ever!
Adding a roasted bell pepper adds the sweetness and smokiness to the hummus. The simple version without the bell pepper is also great!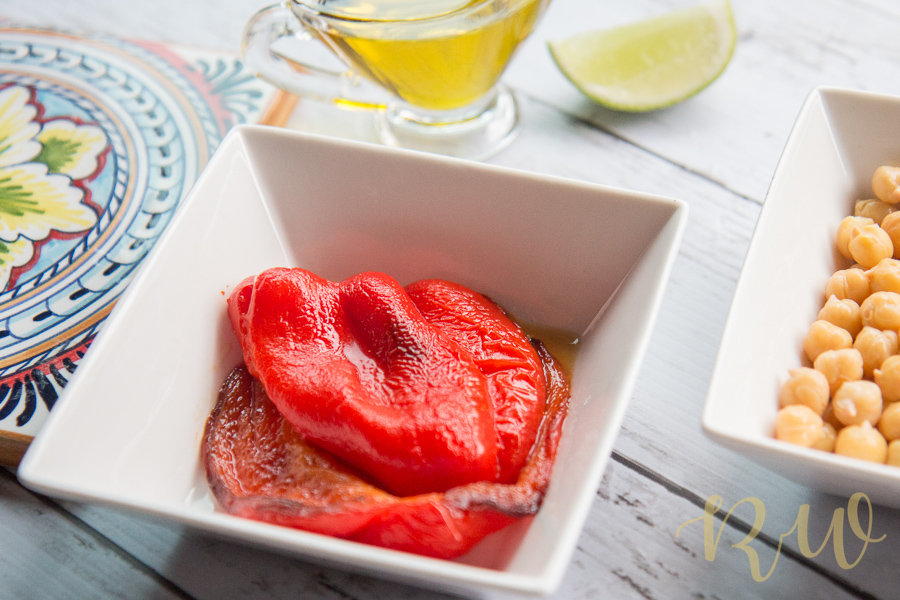 Tahini Paste (Sesame seed paste) – this is something which is definitely needed to make hummus, hummus. It lends a raw and distinct taste to the dip.
All you need to do now is take out that blender and blend all of the ingredients into a smooth consistency.
Traditionally olive oil is added only after blending and before serving, but i like to add in during the mixing, since it makes it softer and juicier in consistency. Also the chickpea broth can be added, if needed for thinning the hummus.
Hummus varies from household to household – so experiment with the ingredients, the quantities and make it your very own!
Hummus and freshly baked Pita breads brushed with olive Oil and sprinkled with za'atar is easily one of my favourite comfort snacks (yes, I have got a few!)
Hummus can be relished with breads, crudités, tortilla chips, basically anything…A perfect party dish and a fun snack for all!
Hope you enjoyed the recipe, let me know your favourite comfort food in the comments below.
Till then,
Rhea xx