These long and hot summer days all I feel like eating is food which are cold and juicy, and not the regular hot fish curry and rice (as one would expect in a Bengali household). As I was browsing some cook books, I came across this Asian salad recipe which is beyond delicious and so perfect for lunch or as an accompaniment for those sweltering summer afternoons.
There is nothing like a fresh cool salad to beat the summer heat and this recipe has a chockfull of healthy goodness. It packs a punch when it comes to the flavours too!
Prepping : (good for 1 person) ♥
1 Zuchini
1 Carrot
Handful of snow peas (cut in halves)
1/2 Red pepper (sliced)
100 gms of Bean Sprouts (more the better)
1 Red Chilli (deseeded and chopped)
For Garnishing :
Toasted Sesame Seeds
Coriander (chopped)
Dressing :
Sesame Oil
Lemon juice
Salt (as required)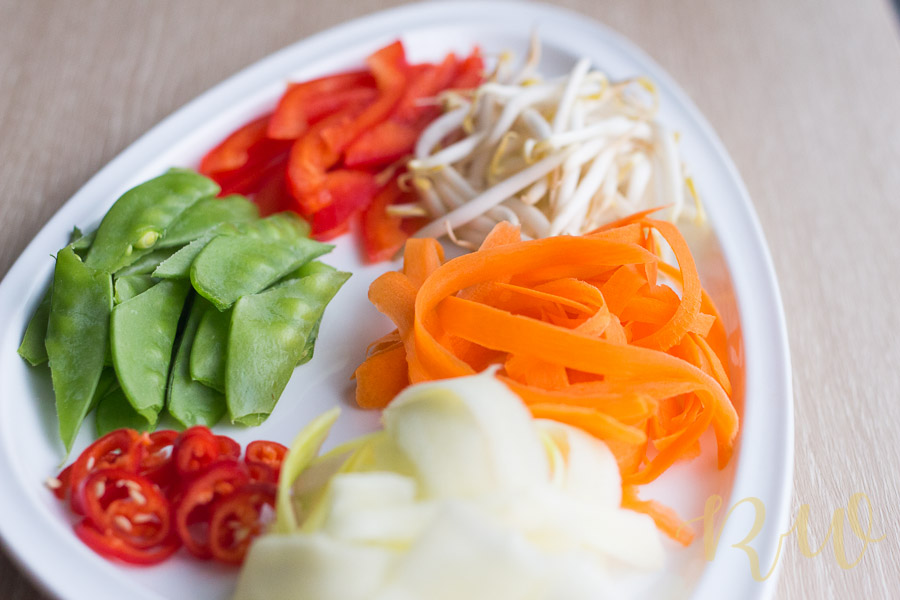 How I made the Salad Bowl ♥
I used the peeler to make ribbons of the zuchini and the carrots (it looks so much better that way). I blanched the ribbons in boiling water for a minute and then transferred to a bowl of cold water.
Later, tossed all ingredients in a big bowl and let it set for some time (30 minutes or so) to allow all the flavours to infuse into the veggies.
Presto! Now I am all set to nom nom a big bowl of yum yum which just took me less than 10 mintues to prepare!
You can always cheer up your salad with any vegetable (or meat protein) you like and tweak a thing or  two (or few) to break the monotony. Salads are great source of antioxidants, vitamins and proteins and is a super hero when it comes to clean eating.
Till then,
Have a good day